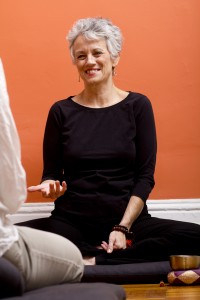 Samu… Simply, it means work. Just that.
So, work as meditation; meditation as work.
Because work can be a meditation. And because meditation is work.
Being present each moment (whether at work or play), sitting still and concentrating on your breath, and simply just doing whatever it is you're doing — takes practice, and work. Not easy, even if it is simple. (When you eat an apple, just eat the apple. No more. Just that.) And as with all work it is ultimately rewarding if you just let it be.
So, just do
Samu
and
Samu
will do you.
Samu – Company of one – Founded 1995:

Through her books, classes, seminars, corporate workshops and one-on-one sessions Nancy offers instruction and inspiration to individuals and groups interested in learning how to live mindfully at work, at home, in relationships and alone with their unique personal landscape.
Services offered:

Meditation instruction – individuals and groups
Individual Life Coaching
Workplace Seminars for stress reduction
Mission:

Dedicated to helping people live mindfully, stress free, and in harmony with the changing circumstances of life, without strain or compulsion.